Rolly was right. 9:00 Saturday evening and we were on our way to meet his Sisters when he said that there was something wrong with the moon. In fact, because of it's size and "yellowish" color (on our side of the world, at least), he thought that it was a sun. I burst into laughter. I mean, seriously, it was hours past sunset! Unless we live somewhere in Alaska where I heard the sun doesn't really set. I quickly looked at the darkness and there it was, settled on the mountains. You know what it reminded me of? That moon on Sandra Bullock's movie, Practical Magic. I noticed it a little big, but it didn't bother me at all.
Today though as I was browsing the net, I noticed several websites with news about the Supermoon. It is actually quite fascinating to read the different theories behind this Lunar Perigee, how readers are quick to associate this phenomenon to the recent Japan Earthquake and Tsunami. But Scientist, being good at what they do, were quick on dismissing the notion. That while the moon helps drive Earth's tides, it is not capable of triggering devastating earthquakes. They further stated that all other effects are minor…
So, I guess it is just appropriate then to appreciate this event that took 18 years to happen again. I am just unhappy I was unable to take a picture of it. See, I was so preoccupied reading New Moon that I missed the big picture. Yes, ironic isn't it. Anyways, here are is my favorite picture of the moon from Saturday Night.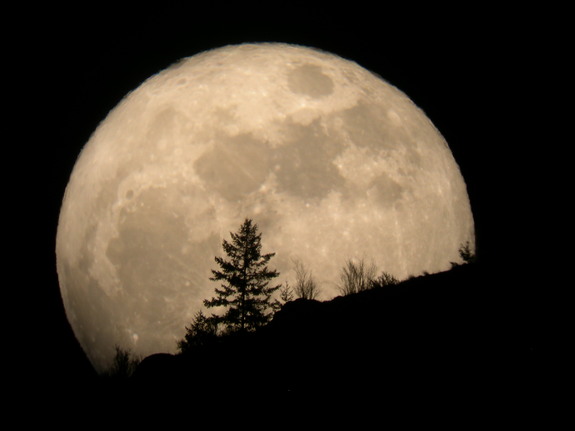 Washington Moonrise Credit: Tim McCord
Skywatcher Tim McCord of Entiat, Washington caught this amazing view of the March 19, 2011 full moon – a supermoon because of the moon's perigee – using a camera-equipped telescope.
See more of the pictures from Skywatchers at www.Space.com